3D Computer Graphics


Poser
Poser is a 3D computer graphics program optimized for 3D modeling of human figures. The program has gained popularity due to allowing beginners to produce basic animations and digital images, and the extensive availability of third-party digital models.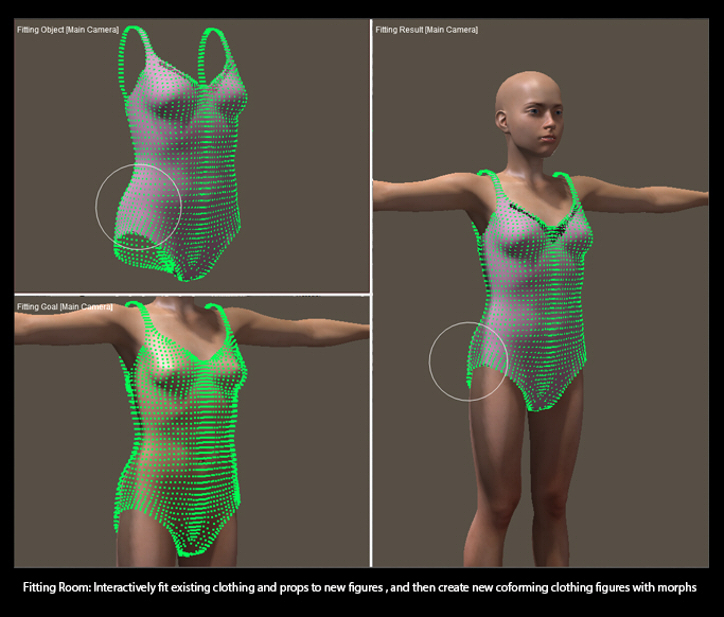 Overview

Poser is a 3D rendering software package for the posing, animating and rendering of 3D polymesh human and animal figures. Akin to a virtual photography studio, Poser allows the user to load figures, props, lighting and cameras for still and animated renderings.
Natively using a subset of the Alias object (OBJ) file format and a text-based markup for content files, Poser comes with a large library of pre-rigged human, animal, robotic, and cartoon figures. The package also includes poses, hair pieces, props, textures, hand gestures and facial expressions. As Poser itself does not allow for original modeling of objects, a large community market of artists emerged, creating and selling Poser content, made using third-party software like modo, ZBrush, Blender or Autodesk 3ds Max.
Poser is available in English, Japanese, German and French for both Microsoft Windows and Mac OS X. While Poser's interface has evolved since the product's introduction in 1995, the current Poser 10 and Poser Pro 2014 preserve many of the application's interface elements so that legacy users can move into the newest version and navigate the application without relearning the program's controls.
Features
Poser includes a library of pre-built, ready-to-use content including body and hand poses, materials, props, facial expressions, hair pieces, lights, cameras and scenes, and a Reyes-based render engine called Firefly which supports nodes for the creation of complex materials. Furthermore, it provides import of sound, image, and video files, motion capture data and 3D content for the creation of scenes or the addition of new library items. Poser exports content in many 3D formats, and rendered images and animation. The program is capable of material editing, facial photo matching, dynamic hair, dynamic cloth and new figure rigging. Online content is available. Python enables third-party developers to create additional features ranging from custom libraries, rendering engine control panels, metadata editors and utility scripts. An ecosystem of third-party content marketplaces including RuntimeDNA, DAZ3D and Renderosity also exists.

Autodesk 3ds Max
Autodesk 3ds Max, formerly 3D Studio Max, is a professional 3D computer graphics program for making 3D animations, models, games and images. It is developed and produced by Autodesk Media and Entertainment. It has modeling capabilities, a flexible plugin architecture and can be used on the Microsoft Windows platform. It is frequently used by video game developers, many TV commercial studios and architectural visualization studios. It is also used for movie effects and movie pre-visualization. To its modeling and animation tools, the latest version of 3ds Max also features shaders (such as ambient occlusion and subsurface scattering), dynamic simulation, particle systems, radiosity, normal map creation and rendering, global illumination, a customizable user interface, and its own scripting language.
Reference:wikipedia